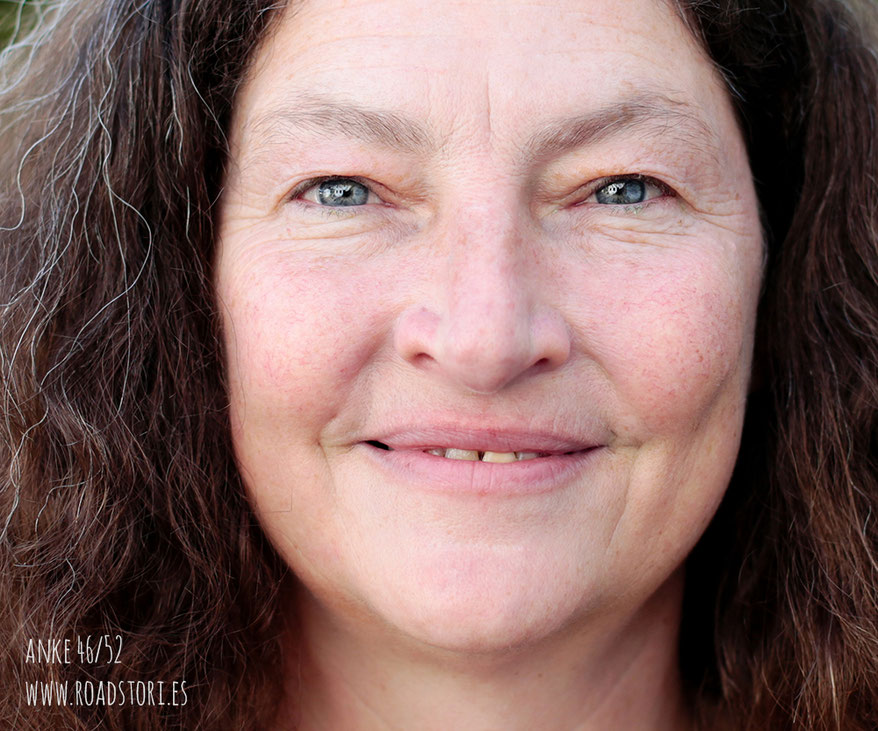 Anke Firlefanz. Artist, clown, wise woman and pioneer in the field of bodypainting as a healing-journey and exploration of the Self.
Anke is a woman who truly walks her talk, I never experienced someone who would express her personality that strong in everything she does. Since 20 years, she is living in the South of Germany. In her home, Atelierhaus Schwabsoien, I found home, depth and women wisdom – and a healing, nourishing approach towards art as an original expression and connection.
HAPPINESS
Life makes me happy. Love makes me happy. And I recognize love in so, so many things in life. Contact, touch makes me happy, and sensual experiences touch me – therefore I am happy when I can enjoy life with all my senses. I love to eat, I dance barefoot through the grass or let my face be caressed by the wind. Those are things, that make me happy. Contact with people is also a part of it; the embrace with a friend, those small, tender contacts that happen with the eyes, the intimate contact with our lover. I love to touch baby feet and it makes me happy!
I think that may surround, what happiness means to me.
HOME
Home is inside of me. For a long time, I was constantly asking myself where my home is, my place. Then, I always had a carpet in my car and knew, where I roll out my carpet, there is my home. Today, I know that my home is HERE. Because I feel inside, that I grew roots here – and wings to dream. It is a very interesting question, because home doesn't depend on a room, but it has to feel familiar and secure. And secure - not inside of walls, because I need to have open doors, but... in the sense of an inner heart-connection. When there is enough of it, I feel home. I don't need to be geographically close to people, because I can always feel the people I love. When I can feel that heart connection, I can be home alone and yet connected with everybody.
At the moment, I am very much at home HERE, at this place. Because the outer living situation is completely in line with my inner feeling. I am so much at home here, that the little pond next door is my bathtub and at the same time my personal working space... Here is my mission, my purpose, my motherhood. And I can "goblin' around" here, I don't need to pretend I am different than I am – this also belongs to my perception of home: I can be, how I am. It took a while, until I realized that.
Since last year, I know that I am home at this place. For al long time, I was at home on the way, and home is still in my heart; but I find it really, really interesting that it also manifests on the outside, into a real home. Because I am not willing to make compromises.
LIFE
It is pretty difficult to name only tree things! The first thing, that point my way ahead, is definitely my birth. Of course I don't remember my birth, but I know, that I decided to come here. Since I was a child, there has always been this AWE, the wonder of the daily: "...and another day! How awesome is that here!"  What a gift. In sad times, also, I was always aware that life is a gift. Even in the darkest and desperate days, I knew.
A second incident is, that I encountered Joey (Anke's partner since 20 years). He is not the father of my children, but in some other form my very true love, my very counterpart, my sparring partner – in everything that we wandered through; all the power struggles, everything that can happen between man and woman. The force of the love, that was there, guided me, through all wave troughs. Even when Joey thought he wouldn't love me anymore, it was the love who guided me through the process and I understood, that it is not important if somebody loves me back, because love stays within me.
In the deepest desperation and darkness, it was the love who came to me. I was laying in bed, when love hit me like a beam. I could only spread my arms and thought: Oh, now I know, why the world functions. Like Yin and Yang, those waves of up and down in life that lead us through life – it is love. Even in the sadness, when it becomes dark, there is love. Others may call it faith, but for me it is love, who keeps everything moving.
And the third point may be, that today, I am experiencing that I am able to share this love. I find it incredibly how many soulful people there are, all the children around me, and it IS shaping my life. This insight still belongs to my second point, when I realized, when I was waved through and through, that on the other hand, I AM PART OF IT – I am also just love. It doesn't mean, that I can't be angry, sad or unjust. It happened roughly at the same time with the feeling of truly being home at this place. That situation is a gift, a task. Windows opened in my mind and I saw connections, that everything fits together. I am so grateful for this whole experience. Humble doesn't express it, but it is the point where I am realizing: I am stardust, I am NOTHING. And at the same time though an important part of the big picture.
And that I am allowed to experience this – this is the third life-shaping thing. It carries me further.
These are beautiful questions, that you are asking.
Florestan's question: What means desperation to you?
Desperation. I knew this moment, before love hit me – not falling in love, but the kind of love who showed me her presence in everything that is, also in myself. Others may call it God. Desperation was the state I was in right before that happened, and desperation to me is connected with DOUBT. When I am doubting, everything gets confused. The doubter in me can become so powerful that I get incapable of acting.
When I felt real desperation, it was the only time that I had something like suicidal thought, and I knew: That's not me, because I LOVE life. But that's how desperation feels like. It was so dark, I couldn't even communicate it. It feels like stabbing and turning a knife in the heart; that are heartaches. What I read about that sensation is, that the pain, the breaking, is not the heart itself; it is the old crusts which aren't serving us anymore, because life wants to grow, to expand. Life is movement.
As soon as something becomes rigid, it doesn't participate in life anymore, Even, if something is so beautiful that I want to hold it and keep it forever. "It will pass" is actually the slogan of life.
When I was at the deepest point of desperation, love came. And I am really grateful for that experience. Desperation is, to feel the opposite of love: Hopelessness, no motivation nor will to live. The deepest point of the Ying-Yang-Wave, and yet a part of life. We can't go through life without experiencing desperation, because we all feel this wave movement.
For many people, this amount of emotion feels threatening, because we are not used to handle it. In school, we are judged according to our grades, not according to our happiness.
Today, I know how I can breathe into that state of desperation, breathe, feel it entirely and say then: Ah, I know you. You are doubt. And you are good. But I know, that I won't be well when I follow you; I rather listen to what love says. And I do listen what my heart says and go for it, even if it may be completely against reason.
Anke's question: (In a non-material way) : What is the most important thing for you in life?
And how much of what you do is in line with that?