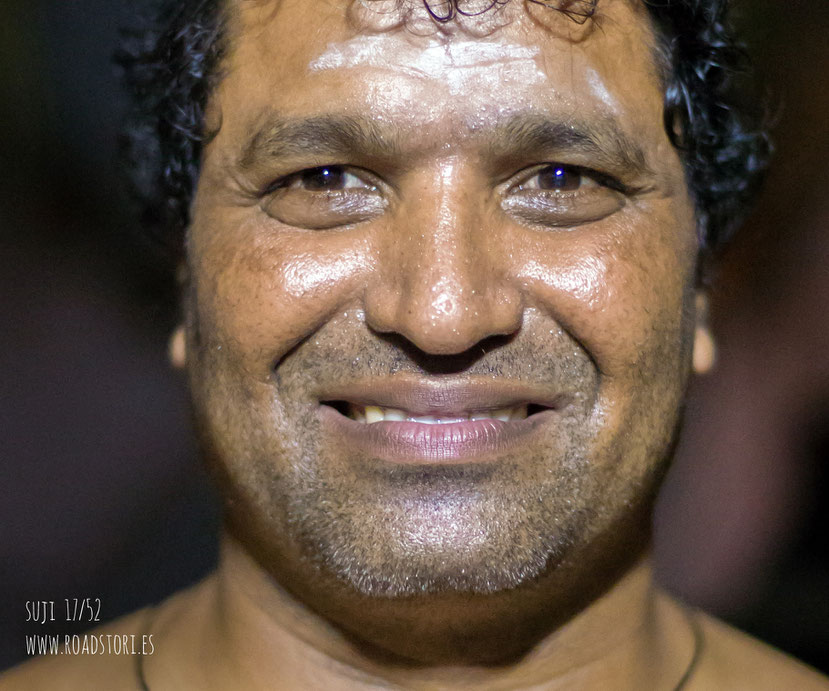 Suji is a traditional singer at the Kathakali Centre in Kochi, Kerala in the South of India. I was deeply touched and impressed by the purity of his voice and the devotion in his singing. The training to become a singer lasts six years. Since 21 years, he starts the morning at the centre with singing traditional Ragas for meditation and ends it with singing for the traditional Kathakali demonstration. I interviewed him between two of his explanations for the auditors at a concert in the late evening.
HAPPINESS
The life is making me happy. Doing the real things. The true things. Whatever the day starts with – it starts for me with doing something to serve the culture for. That is my life. And it fulfills my life with happiness. All kind of music is the language of the universe.
HOME
This is my home. Art.
I am living not far from here, but my day is starting here and is ending here.
LIFE
That is amazing, that question. Because it is so difficult to come here to this situation, you know. Because I didn't know I would be here - Normally, my father has given us small lessons of singing. And somehow that institute got me for the conception, the conception of this building. And incidentally, my friend started this theatre. And for the last 21 years I am going here, every single day. Hundred people here, hundred people there in the audience, I hope for everybody to leave with the same feeling. Doing this service makes for me a good feeling. I am living to do something. I am giving everything of me. When I am doing the service, it creates happiness, for me and for others. Whatever you are doing you should do it trustfully and heartfully and enjoy it. Your selfish enjoyment – makes enjoyment for others
Klaus' question: What means fear to you and how do you deal with it?
I am not afraid of anything. I just live today – today. So there is no fear.
Suji's question: What is your life's purpose?