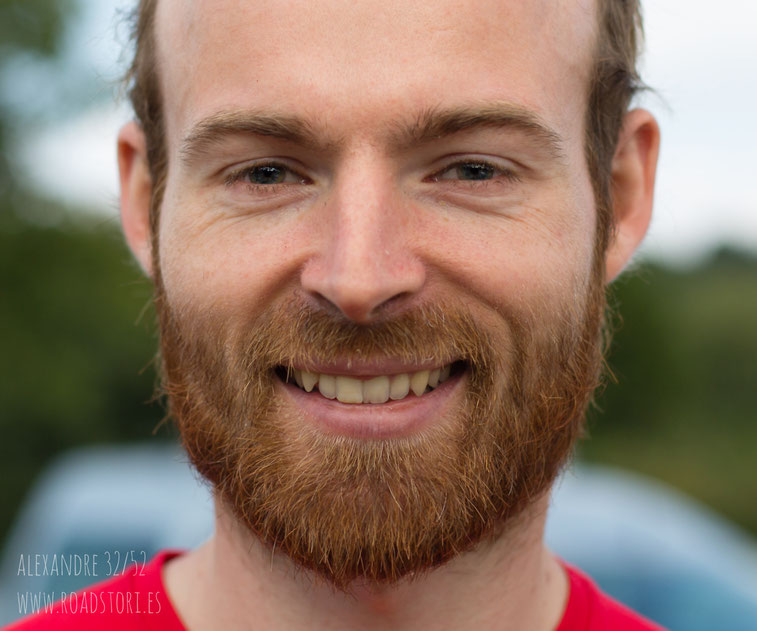 Alexandre is a climbing friend (I interviewed him after a sunny sunday we spent in the Vulkaneifel), French, lives and works in Cologne, and has been doing karate for 23 years. He works in a big energy company as a statistician.
HAPPINESS
What makes me happy...My freedom! Today is a good example as to what I mean. I've had the freedom to spend the whole day outside, climbing and just doing whatever I want to do in the spur of the moment. Without any pressure of achievement. Without stress and obligations. It's often obligations which restrict freedom, even though they can also result in a kind of happiness or satisfaction... My job is an obligation...Even though I can 'play' with numbers, which I enjoyed doing as a child. Work and pleasure - I think, despite the complexity, it's important to ask oneself if what makes one happy should be connected to ones work? Whether or not ones work can also make one happy and whether or not the restrictions of a work environment could have a negative impact on that which makes one happy? In my experience, as soon as I commit myself to something, I lose interest in it.
HOME
Since I bought my flat a year ago, I have had my first real home. I could almost have answered the first question, with the second one. What I'm referring to, is why I decided to buy my flat in Cologne, rather than somewhere on the cost, in the mountains or in a more beautiful city. The answer is not only dependant on my job, I also feel really good here! I like the people and the atmosphere, here in Cologne. In France, you don't see many elderly people on the streets or in clubs because they probably think they are too old for that kind of thing - But here, people just do it, and they seem SO happy! You can see elderly people, around 70, sitting in the breweries , eating, drinking and just having fun together. To see that makes me happy. I can also get everywhere, from my flat, with a bicycle, which for me is very important and gives me a sense of freedom and happiness.
I used to work in Paris and, at that time, I actually wanted to move to a different branch of the company in England or Ireland. By chance I met one of my best friends from Uni, who was doing a years voluntary work with the company. Then I was recommended the position in Cologne, and I thought, ok, I'll try it for a year. I couldn't speak any German, but it didn't matter because the project was in English. After one year I decided to stay on...After two years I wanted to move again, but after three years I found a great karate group, and with this discovery came some great friends and more reasons to stay in Cologne.
I now have more German friends than French friends, which also plays a part in where one feels comfortable. A good 'benchmark' for me was my 30th birthday. I celebrated it here in Cologne, with many of my friends from France, Paris, who were all very surprised by the city and my life here. They were very supportive and said they could totally understand if I decided to stay here.
LIFE
What was influential...I used to be a real country person...I never would have thought that I'd end up in a city. Paris was much too big for me. In Cologne, however, I've found a really good balance. I'd love to be able to say that I like the food, but unfortunately I can't...(Alexandre laughs)... It's more about the attitude and atmosphere here in Cologne. Carnival for example: It's not really that important or interesting to me, but I still take part because it's an amazing feeling to celebrate together with many people.
Climbing has also become a great hobby! I can now totally understand those people, who spend their entire life just climbing.
Lara's questions: What is the reason for your unhappiness which leads to conflict?
I believe, generally speaking, that political leaders and therefore a very small number of people, are largely responsible for the current situation of conflict and war. Strangers who meet, because they don't know each other's backgrounds, are generally not in conflict with one another.
If one is caught up in too many commitments and responsibilities in everyday life, like working all day and running errands, and one knows that one's next opportunity to have a small break is months away and after that only around Christmas time, I think that discontentment is not unreasonable. I know that if I were stuck in a routine, from which I could not escape, I would be unhappy and dissatisfied. That's not to say that a busy life can't be very fulfilling for some people, but it's not how I want to live. I would feel completely trapped or caged in - like my freedom had been taken away. I always try to maximise my free time and to fill it with positive things. If you have a clear head, I see no reason why one can't be happy.
Alexandre's question: Which is the happiest animal in the world? Which animal would you like to be?